To keep your items safe on their journey, make sure they are properly packaged up. Good quality packaging is critical to protecting your shipment arrive safety an intact during transportation. Otherwise, they could get damaged in transit, and you will not be able to claim. So that your parcel arrives at its destination in one piece, read up on our top packaging tips.
Packaging Protects Your Shipment
Look out for the manufacturer stamp which tells you informations about the construction type and strength of a box. Ask your box supplier for more information as required and refer to the box specifications.
Under-filled boxes may collapse and over-filled boxes may burst. Prevent this by choosing a box with the right size for the content being shipped.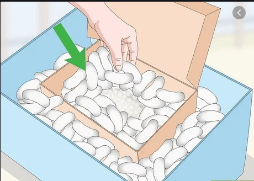 Leave no empty space. It is important to completely fill empty space within the box to avoid contents moving during transit which can cause damage to both contents and box.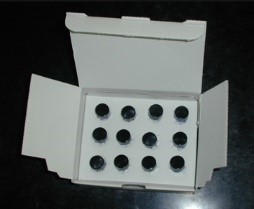 6 cm distance. Always place items being shipped in the centre of the boc with at least 6 cm of separation from any external walls or corners.



Label informations about the parcel and tape it.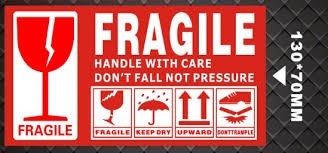 Wrap Each Item Individually And Use Dividers. Don't Strp Boxes Together
When shipping multiple items in a single package, always wrap each item individually and separate with corrugated inserts or ther divider materials as appropriate.
Seal the parcel well on the top and bottom, and along all the edges, using parcel tape or reinforced carton tape rather than ordinary household tape.
Protect Fragile Items On Their Journey
Please pay special attention to packing fragile, large or perishable items. These are easily damaged, and many are not covered by compensation. Examples include electrical items, musical instruments, china, glass, foodstuffs and flowers
The original retail packaging is a good starting point for covering electrical items, but further protection will usually be needed. If suitcases or outer hard cases are used as outer packaging, then that outer packaging will not be covered for damage.
Packing Large And Awkwardly Shaped Items
Make sure you are aware of what constitutes a large parcel before you send, as this could affect delivery options and prices.
Please Check That We Can Accept Your Parcel
Prohibitions or restrictions might apply to your goods, and we cannot accept parcels that are in breach of these sanctions. We will not carry anything classed as dangerous goods, human remains, waste products arms and ammunition.
Correctly Completed Documentation
Check all documentation is accurately completed to avoid any delay in transit. Make sure barcoded labels are securely attached to the parcel and are clearly visible.
Make Sure Label Are Firmly Attached
Fix the shipment label securely, instead, insert your label into a clear plastic envelope and attach it to a handle or strap on your package using a bag tie. Complete details and clearly visible on the top surface of the shipment box and that the label does not cover any seams. This will help us keep your shipment in an upright position as much as possible during transit. Use a plastic self-adhesive clear window pouch to hold any loose documents that are required to be placed outside of the box. Do not let other labels, tapes or paperwork cover the shipment label. Placing a spare label inside the package will help us identify your shipment if the original label becomes detached or damaged.
Use Clear, Accurate Addressing
Make sure the recipient's name, address and post code are clearly written on the parcel. You should also write your own name, address, post code and phone number on the outside and inside of the parcel, in case there are any issues during transit. The phone number of the recipient is also helpful, and is essential for any parcels sent using our international services, where a local phone number for the destination country must be displayed on the outside of the package.
Many liquid containers are not tough enough to survive the bangs and knocks of any normal delivery system, such as sorting impact or road vibration. In addition, the original manufacturer's packaging is usually designed for carriage on pallets rather than single-piece consignments.
All liquid containers must be securely sealed in order to avoid leaks. Containers should be wrapped in an impermeable material and contain sufficient absorbent material to absorb the liquid in case of breakage. Bottles should be separated using cushioning materials such as foam or corrugated cardboard to prevent them touching each other and sealed in a plastic bag to avoid damaging surrounding parcels.
Corrugated carton is the most common way to pack your parcel externally. Always use hight quality rigid cardboard box with sufficient internal packaging to prevent movement in transit. Use a new box. Boxes lose their protective qualities the more times they're used, so a previously used box may not protect your consignment sufficiently. If you must reuse a box, make sure it's rigid and in excellent condition with no punctures, tears, rips or corner damage and that all flaps are intact. Remove any labels and all other old markings from the box. Double-wall corrugated cartons provide enhanced strength, which make them especially suitable for the transport of heavy items.
Double boxing is a way to use the original manufacturer's packaging. All fragile objects suck as glass, ceramics, electronic equipment should be double-boxed. Always make sure that the original packaging is in good condition and that the internal foam is not cracked or broken. Use a new corrugated carton that is at least 15 cm longer, wider and higher than the original manufacturer's box. Fill the bottom of the new carton with at least 7 cm of cushioning such as loose-fill expanded polystyrene 'peanuts' or similar. Don't use crumpled or shredded paper. The original manufacturer's box should be placed on top of the cushioning material and in the centre of the new carton, allowing for at least 7 cm of cushioning around the remaining five sides of the package. Fill the remaining empty space in the package with more cushioning material.
It's important to cushion internally the contents of your package properly. Make sure you wrap each item separately. Fragile articles need both suitable separation from each other and clearance from the corners and sides of the box. You should leave a space of at least 6 cm between the outer container and the product inside. This space should be filled with enough internal protection to ensure the contents do not move when you shake the container. The following are the most common purpose-made types of internal packaging:
Made of pockets of air distributed on a plastic film. Designed to protect and cushion lightweight items from shock, vibration and abrasion. Used in multiple wraps and layers to ensure that the item is completely protected, especially on corners and edges.
For wrapping delicate items where a soft non-abrasive and lightweight cushioning material is required.
Inflatable packaging (air bags)
Used primarily as void-fill materials for lightweight items. Not suitable for items with sharp corners or edges.
Loose-fill expanded polystyrene "peanuts"
Used to fill the empty spaces in boxes around lightweight items. Overfill the box with peanuts, gently close the flaps and seal securely. Do not use with flat or narrow products that may move to the edge or bottom of the carton in transit. Peanuts will shift and settle, so it's recommended that a minimum of 7 cm of cushioning be used around the item.
Engineered foam enclosures
May include expanded polystyrene, polyethylene, polypropylene or copolymers. Enclosures should be pre-engineered for specific products.
Chemical mixture sprayed into the box or mixed in packets that expands and forms a protective mould around contents. The foam will form a mould around any product, supports corners and protects edges.
Corrugated paper rolls and inserts
May be added to the package to increase strength and improve package performance.
Crumpled kraft wrapping paper or newspaper
Used primarily as a void-fill material for light- to medium-weight, non-fragile items and other items that are suitable for such packing materials. Must be tightly crumpled. Place at least 10 cm of paper between the item and the outer box.
Single-faced corrugated paper coated with cohesive. Ideal for packing of books, CDs, videos etc.
We are happy to provide you with more information, just drop us an email